Bill Gates says lives of poor people will improve
New York: The 42 billion US dollar Gates Foundation is predicting that the lives of poor people around the world will improve more over the next 15 years than at any time in history.Bill and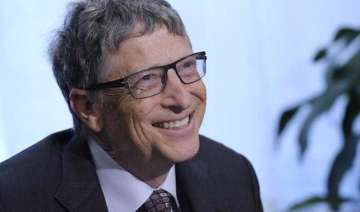 India TV News Desk
January 22, 2015 14:52 IST
New York: The 42 billion US dollar Gates Foundation is predicting that the lives of poor people around the world will improve more over the next 15 years than at any time in history.
Bill and Melinda Gates, in an interview on Wednesday, laid out the vision for the world's largest charitable foundation as they prepared to travel to the World Economic Forum and its annual networking meeting of heads of state and business leaders.
The international community, led by the United Nations, is deciding this year on the most crucial development goals for the next 15 years in defeating poverty, disease and hunger.
The Gates Foundation's own ambitious 15-year agenda, spelled out in its latest annual letter, foresees the elimination of polio and three other diseases and says Africa will be able to feed itself.
The letter was published online early Thursday.
It looks ahead to a world where polio and Guinea worm, along with at least two others, will be eliminated.
The couple also said they plan to meet with World Health Organisation chief Margaret Chan in at the World Economic Forum in Davos.
The foundation last year announced it would spend 50 million US dollars on the emergency response to Ebola in West Africa, where both WHO and Chan have been criticised for their handling of the worst outbreak of the disease in history.
More than 8,000 people have died.
But climate change, an increasingly alarming global issue, is only briefly addressed, though the United Nations Secretary-General has warned that this is the last generation that can do anything to avoid its worst effects.