Boko Haram destroys at least 16 towns, villages in Nigeria
Kano (Nigeria): Boko Haram, a militant Islamist movement based in Nigeria, destroyed at least 16 towns and villages after capturing a key military base in Northeast Nigeria today, according to officials.Musa Bukar, head of the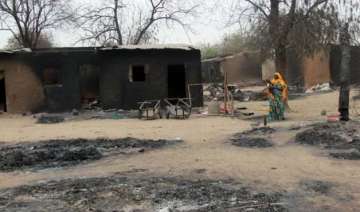 India TV News Desk
January 09, 2015 15:58 IST
Kano (Nigeria): Boko Haram, a militant Islamist movement based in Nigeria, destroyed at least 16 towns and villages after capturing a key military base in Northeast Nigeria today, according to officials.
Musa Bukar, head of the Kukawa local government area, said, "They (Boko Haram) burnt to the ground all the 16 towns and villages, including Baga, Doron-Baga, Mile 4, Mile 3, Kauyen Kuros and Bunduram."
The natives confirmed the attacks. They added that hundreds of people who fled were trapped on Islands on Lake Chad.
This renewed assault by the Boko Haram has further deepened trouble for Nigeria's military, that happens to be the largest in West Africa.
Despite its size, it lacks adequate weaponry and bullets, whereas Boko Haram is well-armed with advanced weapons.  In the past six months, militants have got hold of over two dozen towns in Northeast Nigeria.