Bomb Kills 6 In Northwest Pakistan
Peshawar, Apr 4: A Pakistani government official says a bomb has ripped through a passenger van, killing six people in a violent region near the Afghan border.Iqbal Khan says Wednesday's blast occurred in Jamrud town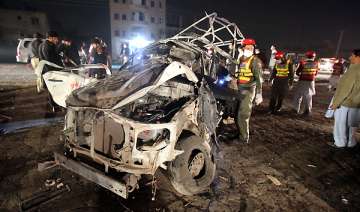 India TV News Desk
April 04, 2012 12:03 IST
Peshawar, Apr 4:
A Pakistani government official says a bomb has ripped through a passenger van, killing six people in a violent region near the Afghan border.
Iqbal Khan says Wednesday's blast occurred in Jamrud town in Khyber tribal region.
Khan says the bomb was planted inside the van, and that it was unclear whether it was a remote controlled or a timed device.
Islamist militants have carried out scores of bombings in northwest Pakistan in recent years, often targeting civilians or those from tribes who do not support them.