Indonesia govt confirms execution of 8 drug convicts
Cilacap, Indonesia: Indonesian Attorney General Muhammad Prasety has confirmed that the country has executed eight convicted drug traffickers -two Australians, four Nigerians, a Brazilian and an Indonesian man.Prasety told a news conference that each had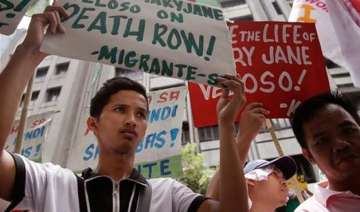 India TV News Desk
April 29, 2015 10:51 IST
Cilacap, Indonesia: Indonesian Attorney General Muhammad Prasety has confirmed that the country has executed eight convicted drug traffickers -two Australians, four Nigerians, a Brazilian and an Indonesian man.
Prasety told a news conference that each had been executed on Wednesday by a 13-member firing squad.
He had early said Philippines woman, Mary Jane Fiesta Veloso, had been granted a stay of execution while the Philippines investigate her case.
Indonesia brushed aside last-minute appeals and executed eight people convicted of drug smuggling.
 
Gunshots were heard about 12:30 a.m. local time (17:30 GMT) from Nusakambangan island where executions took place.
Originally, 10 inmates were to be executed, but Frenchman Serge Atlaoui was excluded from the latest executions because he still had an outstanding court appeal against Widodo's rejection of his clemency application.