Britain to issue new one pound coin
London :  The British government unveiled a new one pound coin Wednesday, aiming to fight forgery and counterfeiting.The Royal Mint said the new coin would have the same shape as the 12-sided three pence piece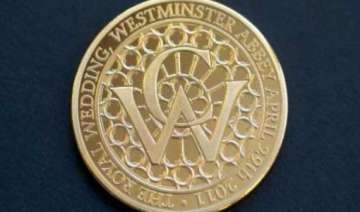 IANS
March 20, 2014 8:38 IST
London : 
The British government unveiled a new one pound coin Wednesday, aiming to fight forgery and counterfeiting.
The Royal Mint said the new coin would have the same shape as the 12-sided three pence piece or "threepenny bit" and would be "the most secure coin in the world", Xinhua reported.
The coin is expected to be introduced in 2017.
Figures released by the Royal Mint point to about 3 percent of all one-pound coins now being forgeries. In some parts of the country, it is as high as 5 percent.
"Over the past few years, around two million fake one pound coins have been removed from circulation each year. This is a direct cost to the banks and cash handling centres and to the economy," the Royal Mint said in a statement.
"In addition to these costs, increasing rates of counterfeiting could in the future pose a challenge to the integrity of our currency which is so important to the resilience of our economy," it added.
The current one pound coin has been in circulation for over 30 years, much longer than the normal life cycle of a modern British coin.
"Its technology is no longer suitable for a coin of its value, leaving it vulnerable to ever more sophisticated counterfeiters," the treasury said in a statement.
It said the government would consult on the new coin in detail, focusing on the impact on business, and expects to introduce it in 2017.
The treasury said while law enforcement agencies were successfully cracking down on counterfeiting groups, "the only sustainable solution to ensure that we stay ahead of the criminals is to introduce a new, highly secure coin, reducing costs to business and the taxpayer".
The new coin will have the Queen's likeness on the heads side, but the treasury said there would be a public competition to decide the design for the reverse, or tails side.