Bugti's Grandson Offers Rs 101 Million Bounty On Musharraf's Head
Islamabad, Jan 16: Days before Pervez Musharraf's planned return to Pakistan from self-exile, a grandson of slain Baloch nationalist leader Akbar Bugti has put a bounty worth Rs 101 million on the former military ruler's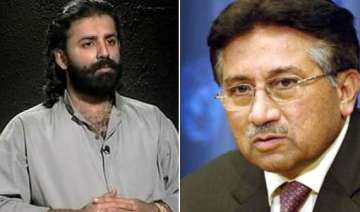 PTI
January 16, 2012 15:01 IST
Islamabad, Jan 16: Days before Pervez Musharraf's planned return to Pakistan from self-exile, a grandson of slain Baloch nationalist leader Akbar Bugti has put a bounty worth Rs 101 million on the former military ruler's head. 

"We will give Rs 1 million in cash and a bungalow worth Rs 100 million to anybody who kills Musharraf. And we'll also provide him full security," Shahzain Bugti told reporters at Pir Jo Goth in Sindh province yesterday. 

Akbar Bugti and several of his companions were killed in a military operation in Kohlu district of Balochistan in 2006.

The operation was ordered by Musharraf, who was then both army chief and President.

Speaking to the media after meeting the family of political leader Pir Pagara, who died recently, Shahzain Bugti demanded that Musharraf should be hanged. 

"The gallows are ready for Musharraf. There will be serious consequences if the government does not arrest him upon his arrival," said Shahzain, a senior leader of the Jamhoori Watan Party.

Shahzain alleged that Musharraf was responsible for killing hundreds of people.

"He not only killed my grandfather but also hundreds of innocent people during the Lal Masjid operation in Islamabad.  Clerics have declared him wajib-ul-qatal (fit to be killed)," he claimed.

Musharraf recently announced that he intends to return to Pakistan between January 27 and 30.

The former dictator, who has been living in Dubai and London since April 2009, said he would fly into the southern port city of Karachi with a group of supporters.