Canada to supply Uranium to India for next 5 years
Ottawa: Prime Minister Narendra Modi today said that the agreement with Canada for Uranium supply to India has launched a new era of bilateral cooperation between the two countries. Describing Canada as a potential key partner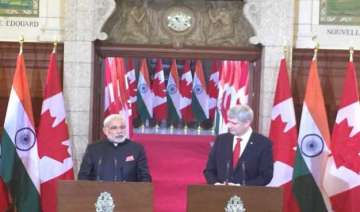 India TV News Desk
April 15, 2015 22:11 IST
Ottawa: Prime Minister Narendra Modi today said that the agreement with Canada for Uranium supply to India has launched a new era of bilateral cooperation between the two countries. 
Describing Canada as a potential key partner in every area of India's national development priority,  the prime minister said India and Canada are committed to establish a new framework for economic partnership
"I look forward to our continued partnership in G20, ours is a natural partnership of shared values," he added.
Expressing satisfaction over the nuclear deal, Modi said, "the agreement on procurement of uranium from Canada for our civilian nuclear power plants has launched new era of bilateral cooperation."
Terming the Prime Minister Narendra Modi's visit as an indication of strong friendship between two countries, Canadian PM Stephen Harper in a joint statement today announced that Canada will supply uranium to India for the next five years.
He said, "Cameco Corporation will supply uranium to India for the next five years."
"PM Modi and I are celebrating the signing of a range of agreement. These include cooperation on civil aviation & space, rail transportation, skills development &higher education among others," he added.
Canada will supply uranium to energy-starved India beginning this year over a period of five years, a decision which was termed as a launch of a new era of bilateral cooperation and mutual trust by Prime Minister Narendra Modi.
Under an agreement signed today after comprehensive talks Modi had with his Canadian counterpart Stephen Harper, Cameco Corporation will supply 3,000 metric tonnes of uranium over five years to India at an estimated cost of USD 254 million. 
The supply will start from this year, highly placed sources said. Canada is the third country to supply uranium to India after Russia and Kazakhstan.The supplies will be under the International Atomic Energy Agency (IAEA) safeguards
Stating India's ambition of becoming a manufacturing hub PM said, "India will become a manufacturing hub, only when the demand for raw material is met. Canada has the raw material that India needs."
Modi also announced 10 year's visa for Canadian citizens. "Canadian citizens will now be eligible for a 10-year Indian Visa," said Modi.
PM Modi also condemned the 2014 parliament attack in Canada.
"Attack on any Parliament is not just an attack on a building but democracy," he said
Emphasising on the need for a UN resolution to fight terrorism, prime minister said, "We too had faced this trouble. Now the world is witnessing that terrorism does not have geographical boundaries."
Earlier, Prime Minster Narendra Modi was accorded a ceremonial welcome in Canada's Ottawa on Wednesday.  The prime minister met Canadian governor general David Johnston in Ottawa after arriving in the Canadian capital on Tuesday evening on the final leg of his three-nation tour.
PM Harper presented a traditional Indian miniature painting showing Guru Nanak Dev with his disciples Bhai Bala & Bhai Mardana.