China reacts sharply to Indo-US joint declaration on South China Sea
New Delhi: China Monday reacted sharply to India-US joint statement referring to the disputes in the South China Sea, saying disputes should be resolved by parties directly concerned through peaceful talks and consultation.Obama and Modi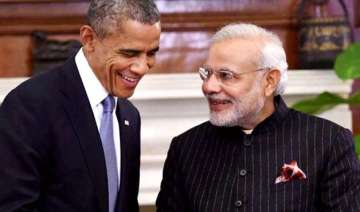 India TV News Desk
January 27, 2015 9:02 IST
New Delhi: China Monday reacted sharply to India-US joint statement referring to the disputes in the South China Sea, saying disputes should be resolved by parties directly concerned through peaceful talks and consultation.
Obama and Modi released a joint statement showing concern about "rising tensions over maritime territorial disputes" in that region. The statement has irked China which reaffirms both India and America's concerns on maritime disputes in the South China seas.
Though the statement doesn't specifically spell out the Spratly Islands dispute or China's disputes with Vietnam over its maritime area of interest, it says, "We affirm the importance of safeguarding maritime security and ensuring freedom of navigation and over flight throughout the region, especially in the South China Sea."  
The Chinese foreign ministry on Monday reacted to the India-US declaration by saying that "relevant disputes should be resolved by parties directly concerned through peaceful talks and consultation". It also warned that "external countries" should not stir up trouble in the region.
Adding another remark, it said to be fallout of Obama's visit to India, the Chinese foreign minister Wang Yi was reported as having told Pakistan Army chief Raheel Sharif that Pakistan was China's "irreplaceable all-weather friend" and that they shared "common destiny".
China is involved with several maritime disputes with countries in the South China seas and has aggressively asserted its claims to disputed territories. In the past, there have also been reports of China cautioning Indian warships plying in the South China Seas.
The India-US joint statement said that Obama and Modi also explored chances of holding trilateral dialogue with Japan at the foreign minister level. The vision, according to the statement, was also in recognition of the fact that India's Act-East Policy and the US rebalance provided opportunities for them and other Asia-Pacific countries to work together to strengthen regional ties.
"We hope that external countries can play a constructive role on the South China Sea issue, jointly safeguard peace and stability in the sea and work together to maintain a fine situation and not to stir up trouble," said Hua Chunying, the Chinese foreign ministry spokeswoman.
India and China are in the midst of a substantial growth in the size and capabilities of their Navies. The statement highlights the close strategic ties between India and the United States, a relationship that can balance the growing strategic presence of China in the greater Indian Ocean region.