China supports India's "desire" to play bigger role in UN
Beijing: China, which is yet to fully endorse India's permanent membership of the UN Security Council, today, said it supports India's "desire" to play a bigger role in the UN and will strive to work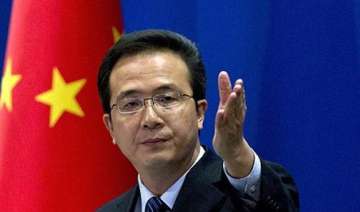 PTI
April 13, 2015 16:48 IST
Beijing: China, which is yet to fully endorse India's permanent membership of the UN Security Council, today, said it supports India's "desire" to play a bigger role in the UN and will strive to work out a "package plan" to reform the powerful organ of the world body.
"We attach great importance to the role and status of India as a major developing country in regional and international affairs," Chinese Foreign Ministry spokesman Hong Lei told media here, responding to Prime Minister Narendra Modi's remarks that India has the "right" to be in the UNSC and the days of "begging" for it are gone.  
"We understand and support India's desire to play a big role in multi-lateral institutions including the UN," Hong said.
"The Chinese side will continue to make efforts with all parties to strive for a package plan that accommodates concerns and interests of all parties through extensive democratic consultation," Hong said.  This is the first time China spoke of a "package plan".
Asked whether the "package plan" referred to UNSC, Hong clarified that it is mainly about the reform of the UN Security Council.
"Reforms of the UN Security Council concern a wide range of elements as well as the interest of all members of the Security Council. We maintain that we should strive for consensus through democratic consultation," he said.
"The package plan is mainly about the security council reforms. The UN is a very big organisation. Reform should not be taken place only in the Security Council but also in the field of social and economic areas," he said.
Hong said that China supports the reform of the UNSC to increase the representativeness and to give more voice to the developing countries.
"The reform of the Security Council bears on the long term development of UN and immediate interests of all members, he said today.
China is the only country among the permanent five to have not endorsed India's permanent membership to the UNSC. The other four—United States, Russia, Britain and France—in principle backed New Delhi's push for UNSC permanent membership.