China to deploy range of naval ships in Indian Ocean
Beijing: Riled by reports of the US sharing intelligence with India over movements of Chinese submarines in the Indian Ocean, China today said it would deploy "different kinds of naval ships" depending on requirements of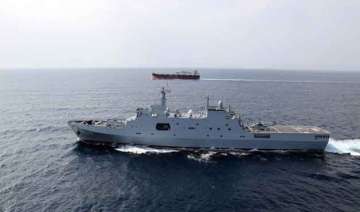 PTI
January 29, 2015 18:38 IST
Beijing: Riled by reports of the US sharing intelligence with India over movements of Chinese submarines in the Indian Ocean, China today said it would deploy "different kinds of naval ships" depending on requirements of operations and other nations "need not read too much into it".
Asked about reports that US is providing intelligence to India about movement of Chinese submarines in the Indian Ocean, Chinese military spokesman Col Yang Yujin told a media briefing here that China is deploying its naval fleet on escort missions in anti-piracy operations in Gulf of Aden and Somalia under UN resolution of 2008.  
The reports of sharing submarine intelligence coincided with the recent visit of US President Barack Obama to India.  "I read the report you have mentioned.
We have notified relevant countries about the escort missions of the Chinese PLA Navy ships including submarines," he said without specifying countries to whom Beijing provided information.  "In future, Chinese military will send different kinds of naval ships to take part in the naval escort in accordance with change of situation and the requirement of the task.
These are quite normal activities and there is no need to read too much into them," he said without elaborating.  China is currently conducting the sea trials of its first aircraft carrier Liaoning amid reports that it plans to build three more.
It is not clear whether China plans to deploy the aircraft carrier too for anti-piracy operations.
To another question as to why China has to deploy submarines for anti-piracy operations in Indian Ocean aimed at targeting pirates, Yang said different vessels play a different role in such missions.
The deployment of Chinese submarines had raised concerns in India.
"It is true that China has sent naval ships to far-seas and conducted many operations including the naval escort and anti pirate missions," he said.
They also provide humanitarian assistance, disaster relief and search and rescue in international waters.  "By doing so Chinese navy is providing more international service helping with peace and stability in the open seas," he said.