Colombian President urinates in his pants on LIVE TV
New Delhi: Juan Manuel Santos' reelection campaign suffered a blow before it even took off on Sunday, after a video of the Colombian president involuntarily urinating on himself during a speech began to circulate early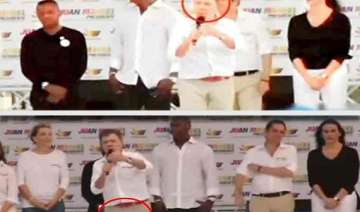 India TV News Desk
March 20, 2014 11:49 IST
New Delhi:
Juan Manuel Santos' reelection campaign suffered a blow before it even took off on Sunday, after a video of the Colombian president involuntarily urinating on himself during a speech began to circulate early this week.
The leader was fervently delivering a speech during the launch of his campaign in the coastal city of Barranquilla when a wet spot gradually began to form on the front of his khaki-colored pants.
The patch got bigger as the speech continued. 
The speech was filmed by a person in the crowd and uploaded to YouTube.
However, the 62-year-old, who is not known to have any illness, continued with his speech. 
Santos was elected president in 2010 and has since made his name as a peacemaker, stepping in to solve a political crisis in Venezuela.