Watch video: Deadly avalanche hitting Mt Everest caught on camera
New Delhi: Saturday's massive earthquake-triggered deadly avalanche on Mount Everest was caught on camera by a climber.The clip shows terrifying face of an avalanche that hit the Mt Everest base camp.The video was taken by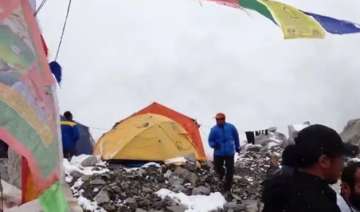 India TV News Desk
April 27, 2015 13:04 IST
New Delhi: Saturday's massive earthquake-triggered deadly avalanche on Mount Everest was caught on camera by a climber.
The clip shows terrifying face of an avalanche that hit the Mt Everest base camp.
The video was taken by German mountaineer Jost Kobusch. 
"The ground is shaking," the 23-year-old is heard saying in the video. 
People can be seen running away from the avalanche into their tents. 
The video ends with the visuals of the entire camp getting blanketed with snow.
Nepal government officials estimated that approximately 1,000 climbers were at base camp when the avalanche hit Mount Everest.
More than 3300 people were killed by 7.9 magnitude earthquake including at least 18 people at the base camp of Mt Everest.