Egyptian Parliament Holds First Session
Cairo, Jan 23: The Islamists dominated new Egyptian Parliament today held its first session after the landmark polls since the ouster of Hosni Mubarak with a candidate of the Muslim Brotherhood tipped to become its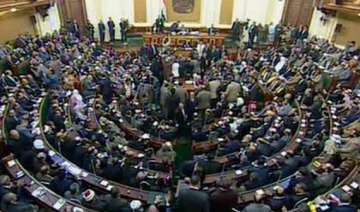 PTI
January 23, 2012 17:32 IST
Cairo, Jan 23: The Islamists dominated new Egyptian Parliament today held its first session after the landmark polls since the ouster of Hosni Mubarak with a candidate of the Muslim Brotherhood tipped to become its first speaker. 

The inauguration of the first post Mubarak-era legislature came as the Brotherhood has eased off talks of Islamisation and instead declared that it will go for fixing Egypt's ailing economy.

The Muslim Brotherhood which has won 47.18 per cent of seats in the 498 member Egyptian parliament appears at the moment to be avoiding any fanatic views as the Army, which took over when Mubarak was ousted will still hold ultimate powers for six more months.

The Brotherhood linked Freedom and Justice Party (FJP) won 235 seats in the new People's Assembly. 

The first session of the House was chaired by Mahmoud el-Saqqah, the chamber's oldest lawmaker.

The lower house of the Egyptian parliament, known as People's Assembly, was due to elect a speaker and two deputies later in the session. 

The speaker was expected to come from the Muslim Brotherhood, a liberal Islamic group which nearly won half of the seats in the parliamentary polls.

There has been an agreement last week between FJP, Salafi Nour and liberal Al-Wafd, to elect Mohammed Saad al-Katatni of the Brotherhood linked group to be the new Speaker.

Al-Katatni is expected to face Essam Sultan of the moderate Islamic Wasat Party.

Freedom and Justice Party and Nour party are severely contesting to head the service committees of health and education.