Eight killed in China road accident
Beijing: Eight people were killed and seven others injured after a minibus and a truck collided in China's Anhui province Monday afternoon, officials said.The head-on collision occurred near a village in Dangshan county, Xinhua reported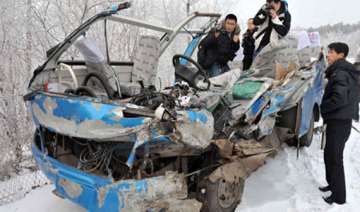 IANS
August 27, 2013 6:40 IST
Beijing
: Eight people were killed and seven others injured after a minibus and a truck collided in China's Anhui province Monday afternoon, officials said.
The head-on collision occurred near a village in Dangshan county, Xinhua reported citing rescuers.
The injured, including four in critical condition, have been hospitalised.
An investigation in the accident is underway.