Eight killed in Karachi violence
Islamabad, Aug 3: At least eight people, including five policemen, were killed in separate incidents of violence in Pakistan's southern port city of Karachi, a leading daily said on Saturday.Four policemen were killed overnight when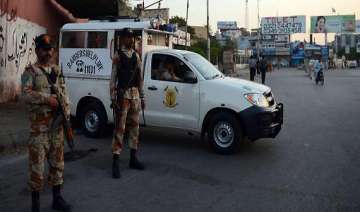 IANS
August 03, 2013 20:30 IST
Islamabad, Aug 3:
At least eight people, including five policemen, were killed in separate incidents of violence in Pakistan's southern port city of Karachi, a leading daily said on Saturday.
Four policemen were killed overnight when unknown assailants on a motorbike opened fire at a police vehicle at the bridge linking the city's Shah Faisal colony area with the Korangi Industrial Area, Dawn quoted rescue officials as saying.
Senior police officer Tahir Naveed said the police vehicle had been sprayed with pistol and rifle bullets.
Another policeman was killed in a shooting incident in Karachi's Manghopir area, while three others lost their lives in separate incidents of violence in the city's Orangi Town area.
Karachi is home to multiple conflicts that frequently turn violent, including gang wars and ethnic and political rivalries. Militants are said to use the city as a hiding place and a source of funds obtained through bank heists, extortion and kidnapping for ransom.