EU restricts weapon export to Egypt
Brussels: The European Union (EU) Wednesday decided to restrict the weapon export to Egypt, which is witnessing a political turmoil and public protests following ouster of first democratically elected president Mohammed Morsi.The decision was announced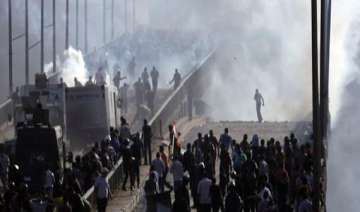 IANS
August 22, 2013 12:46 IST
Brussels:
The European Union (EU) Wednesday decided to restrict the weapon export to Egypt, which is witnessing a political turmoil and public protests following ouster of first democratically elected president Mohammed Morsi.
The decision was announced by the bloc's foreign policy chief Catherine Ashton following an extraordinary Foreign Affair Council in Brussels.
"Member states have agreed to suspend export licenses to Egypt of any equipment could be used to internal repression and to reassess the export licenses covered by the EU common position," said an EU conclusion adopted by the 28-member bloc's foreign ministers.
Morsi was deposed by military July 3, following mass protests against his rule.