Explosion rocks Hezbollah stronghold in Lebanon
Beirut, July 9: A large explosion rocked a stronghold of the Shiite militant Hezbollah group south of the Lebanese capital on Tuesday, setting several cars on fire, sending a thick plume of black smoke billowing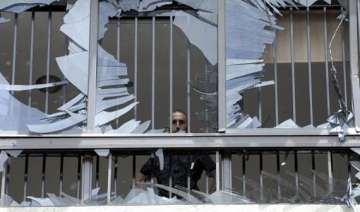 India TV News Desk
July 09, 2013 17:12 IST
Beirut, July 9:
A large explosion rocked a stronghold of the Shiite militant Hezbollah group south of the Lebanese capital on Tuesday, setting several cars on fire, sending a thick plume of black smoke billowing into the sky and wounding at least 15 people, security officials said.
The powerful blast in a bustling commercial and residential neighbourhood came as many Lebanese Shiites began observing the holy month of Ramadan, and is the worst explosion to hit the area in years, a direct fallout of the civil war raging in neighbouring Syria.
With skirmishes between Shiites and Sunnis on the rise around the country, religiously mixed and dangerously fragile Lebanon is increasingly buffeted by powerful forces that are dividing the Arab world along sectarian lines. Some Syrian rebel groups, which are predominantly Sunni, have threatened to strike in Lebanon after Hezbollah joined Syrian President Bashar Assad's troops in their battle against Opposition fighters.
"This is a message, but we will not bow," said Ziad Waked, a municipal official speaking to Hezbollah's Al-Manar television.
Tuesday's explosion struck the area of Beir el-Abed, and was most likely caused by a car bomb, officials said on condition of anonymity in line with regulations. They said the blast was in the parking near the Islamic Coop, a supermarket usually packed with shoppers, and a petrol station.
Al-Manar said 18 people were wounded.
The area is near what is known as Hezbollah's "security square" where many of the party's officials live and have offices.
Ambulances and fire engines, their sirens wailing, raced to the area and witnesses said casualties were rushed to the nearby Bahman and Rasoul al-Atham hospitals. Immediately after the blast, people could be seen running in the street away from the site of the explosion which set several cars on fire.
The power of the explosion shattered windows and damaged several buildings in the busy residential and commercial area.
In May, two rockets slammed into a Hezbollah stronghold in south Beirut, wounding four people. The rockets struck hours after Hezbollah leader Sheikh Hassan Nasrallah vowed in a speech to help propel Mr. Assad to victory in Syria's civil war.
In June, a rocket slammed into the same area, causing no casualties.
Lebanon's Sunni Muslims mostly back the overwhelmingly Sunni rebels in Syria, while many Shiites support Mr. Assad, who is a member of Syria's minority Alawite sect, an offshoot of Shiite Islam.
"It is not a surprise for Dahyeh, the stronghold of resistance, to be targeted by such lowly, treacherous attacks that bear the fingerprints of the Israeli enemy and its tools," said Hezbollah lawmaker Ali Ammar, referring to the name by which the suburb south of Beirut is known.