Female judges in Pakistan must wear veil, says clerics council
Islamabad: The Council of Islamic Ideology (CII) on Wednesday proposed that  female judges in Pakistan should mandatorily cover or observe niqab (face veil) while in court.Maulana Mohammad Khan Sherani who chaired the CII meeting, said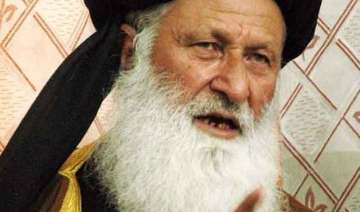 India TV News Desk
January 21, 2015 22:01 IST
Islamabad: The Council of Islamic Ideology (CII) on Wednesday proposed that  female judges in Pakistan should mandatorily cover or observe niqab (face veil) while in court.
Maulana Mohammad Khan Sherani who chaired the CII meeting, said  veil should be observed by female judges in accordance with the principles of Shariah Law.
The Council also proposed making the practice of pronouncing 'talaq' thrice by men in one go, an offence.
According to Dawn newspaper, there are  many interpretations of Islamic law, wherein men can easily obtain  divorce but uttering "talaq" thrice. A woman, however, needs the pronouncement of a Muslim qaazi, who is a scholar in the field of Islamic jurisprudence.
Earlier, the CII had suggested that the divorce sought by a woman would go into effect if the husband fails to respond within three months. It also recommended registering the first utterance of divorce by the husband, following which the second and third utterances of talaq would terminate the marriage.
The recommendations sparked a row as religious scholars and political parties criticised the Council for Islamic Ideology of misinterpreting the Islamic Shariat laws. Critics were of the view that the Council has no right to suggest reforms against the basic spirit of Shariah Law.
Chairman of the CII Maulana Sherani proposed that the pronouncement of talaq thrice in one go be recognised as a punishable offence.
On behalf of the council, he declared that uttering talaq thrice in one go was un-Islamic and against Shariah.
In response to the council's decision on multiple divorces, religious cleric Mufti Naeem told DawnNews, "To declare giving three divorces at once a crime, I think is inappropriate." He maintained that while declaring talaq thrice consecutively has been strongly disliked by Prophet Muhammad, it is not a crime per se.
The council earlier stirred controversy when it stated that a Muslim woman could not object to the second or subsequent marriages of her husband.
Maulana Sherani declared that the nature of punishment for the pronouncement of three divorces should be left to respective courts where particular cases are handled.