France defends freedom of speech after violent protests
Paris: President Francois Hollande stressed today that France was committed to "freedom of expression" after fresh violence broke out in Niger at a rally against French satirical magazine Charlie Hebdo.Meanwhile, jittery European nations stepped up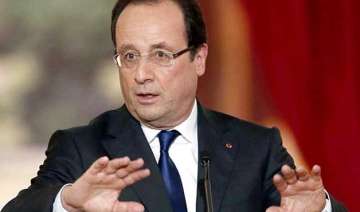 PTI
January 17, 2015 17:49 IST
Paris: President Francois Hollande stressed today that France was committed to "freedom of expression" after fresh violence broke out in Niger at a rally against French satirical magazine Charlie Hebdo.
Meanwhile, jittery European nations stepped up security in the wake of last week's attacks in France that claimed 17 lives.
Belgium began deploying hundreds of armed troops to patrol the streets after security forces smashed a suspected Islamist "terrorist" cell planning to kill police officers.
And in London, authorities were mulling "further measures" to protect police "given some of the deliberate targeting of the police we have seen in a number of countries across Europe and the world," said Mark Rowley, head of counter-terrorism for the British police.
British police officers, for the most part unarmed, might be equipped with taser guns as part of reinforced security measures, according to the local press.
Meanwhile, French and Belgian authorities were grilling suspected accomplices both of the Paris gunmen and the alleged "terrorist" cell raided in eastern Belgium.
Belgian police were hunting for the suspected mastermind of the cell, a notorious 27-year-old jihadist who spent time in Syria and who may have prepared the foiled attack from bases in Greece and Turkey, according to local media.
And fresh protests against Charlie Hebdo broke out for a second day running in Niger.
Police fired tear gas at around 1,000 youths outside the grand mosque in the capital Niamey, some of whom responded by hurling rocks, a day after a rally against Charlie Hebdo in the country's second city of Zinder left four dead and 45 injured.
On Friday, the protesters set fire to the French cultural centre and three churches in Zinder.