French-speaking jihadi threatens to attack West worse than 9/11 in new ISIS video
Baghdad/London: Terror group Islamic State has released a new video showing a French-speaking jihadist threatening attacks against the West and executing apostates and spies in Iraq.The French-speaker wears a beige mask and military fatigues and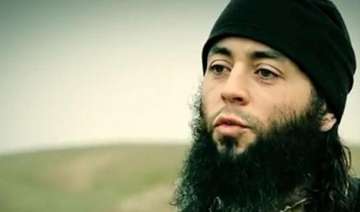 India TV News Desk
February 01, 2016 11:42 IST
Baghdad/London: Terror group Islamic State has released a new video showing a French-speaking jihadist threatening attacks against the West and executing apostates and spies in Iraq.
The French-speaker wears a beige mask and military fatigues and carries a handgun. Curls of blond hair can be seen below his mask.
The video, said to have been made by the ISIS media wing in Iraq's Nineveh province, was made after the November 13 Paris attacks that killed 130 people.
It also showed young men testifying to have acted against the jihadists before being shot dead execution style.
The jihadi further branded US-led coalition fighting ISIS in Syria and Iraq imbecile miscreants and warns that they will be unable to crush the militant group.
The French speaking man vowed that ISIS will carry out acts that will make the West forget the 2001, September 11 attacks against the United States that killed nearly 3,000 people.
He said that the West, particularly Spain, will 'pay dearly' for having crushed Muslim rule in ancient Andalusia, in southern Spain where the Moors ruled from 711 AD to 1492.
He speaks of Cordoba and Toledo and says the ancient land of Andalusia is Muslim and has not been forgotten.
ISIS warns UK of attack more severe than Paris
ISIS has warned Britain of an attack more severe than the Paris assaults, saying the country will receive the 'lion's share' of the slaughter for its 'declaration of war against Muslims'.
In the latest edition of its Arabic newspaper 'al-Naba' (The News), ISIS warns that the UK should be prepared for an attack more severe than in Paris last November which claimed 130 lives.
According to 'The Sunday Times', the article eulogises Mohammed Emwazi, the British murderer dubbed Jihadi John who was killed by a US drone strike.
It said 'his words will never die' and that his message of slaughter did not end 'with the blood of the soldiers of the caliphate who sent it to France in their own special way'.
An attack on Britain will be so severe, it claims, 'that it will turn children's hair to white'. The warning refers to a Quranic verse outlining the horrors of the Judgement Day.
ISIS had released a video last week that featured nine of the Paris attackers, including ringleader Abdelhamid Abaaoud.