Gilani Hints At Early Pak General Elections
Islamabad, Jan 30: Prime Minister Yousuf Raza Gilani has hinted at the possibility of Pakistan's next general election being held ahead of schedule, saying he will hold consultations on the issue with his allies and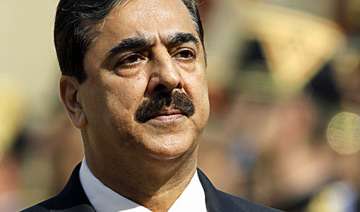 PTI
January 30, 2012 18:34 IST
Islamabad, Jan 30: Prime Minister Yousuf Raza Gilani has hinted at the possibility of Pakistan's next general election being held ahead of schedule, saying he will hold consultations on the issue with his allies and the opposition. 

The general election could be held sometime after the passage of the federal budget, Gilani indicated during an interaction with Pakistani journalists last night following his return from Davos, Switzerland, where he attended the World Economic Forum.

Though the next general election is scheduled for March 2013, several opposition parties, including the PML-N and Jamiat Ulema-e-Islam, have demanded early polls to help the country tide over numerous challenges. 

Leaders of the ruling Pakistan People's Party had recently said the general election could possibly be held in October or November.

Gilani said, "With the passage of the fifth budget, the election year starts and we are of the view that early elections are likely after the budget."

The timing for the next election will be worked out with opposition parties and the government's allies as and when required, he said. 

"In politics, no walls are built but bridges are made. We want free, fair and transparent elections and a smooth transition will set a tradition for future," he said. 

Gilani said the federal budget will be presented in May to give parliamentarians more time to debate issues. 

President Asif Ali Zardari will address parliament according to schedule, he said without setting a date for the speech.

"He (Zardari) will become the first President to address a joint sitting of parliament for the fifth time," he added.