Gilani Was Expecting Supreme Court Order
Islamabad, jan 17: Prime Minister Yousuf Raza Gilani did not seem surprised when TV channels flashed news of the Supreme Court issuing a contempt notice to him today while he was in a meeting with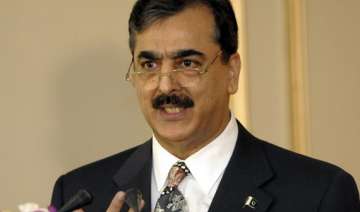 PTI
January 17, 2012 11:44 IST
Islamabad, jan 17: Prime Minister Yousuf Raza Gilani did not seem surprised when TV channels flashed news of the Supreme Court issuing a contempt notice to him today while he was in a meeting with three opposition leaders.

Gilani was holding a meeting with opposition leaders Qazi Hussain Ahmed of the Jamaat-e-Islami, Aftab Ahmed Khan Sherpao of the PPP-S and Mehmood Achakzai of Pakhtunkhwa Milli Awami Party.

Sherpao later told the media that Gilani did not appear to have been taken by surprise by the apex court's order when the news was flashed on TV news channels.

"It was as if he was expecting the court's order," he said.

The opposition leaders told Gilani that he should implement the Supreme Court's orders and end the confrontation between state institutions, Sherpao said.

As long as the confrontation persisted, the government would not be able to resolve the people's problems, he said.

The opposition leaders also advised the premier to hold early elections, Sherpao added.

He did not give the premier's response to the suggestions made by the opposition leaders.

The apex court today issued a contempt notice to Gilani for failing to reopen graft cases against President Asif Ali Zardari and asked him to appear before it on January 19.