H7N9 bird flu cases in China province rise to 25
Guangzhou: Two more cases of humans being infected by the H7N9 bird flu strain was reported from China's Guangdong province Wednesday, bringing the number of people infected by the virus in the province to 25.According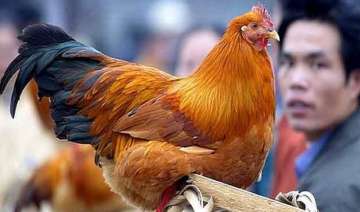 IANS
January 29, 2015 7:10 IST
Guangzhou: Two more cases of humans being infected by the H7N9 bird flu strain was reported from China's Guangdong province Wednesday, bringing the number of people infected by the virus in the province to 25.
According to a Xinhua report, an 83-year-old man in Meizhou city was confirmed infected Wednesday and was in a critical condition, the provincial health and family planning commission said in a statement.
The other patient was a four-year-old boy from Heyuan city, who was confirmed infected Tuesday. He was reported to be in a stable condition.
Health experts have warned that Guangdong, which borders Hong Kong, has entered the high-incidence phase for bird flu, which usually emerges in winter and spring.
A series of human infection reports and the belief that most cases come from exposure to infected poultry have led to the culling of thousands of chickens in Guangdong and Hong Kong this year.
Several cities in Guangdong have also taken measures to restrict live poultry trade to curb the spread of the disease, raising concerns about the impact on the poultry industry.
In addition to Guangdong, Shanghai, Fujian, Jiangxi and Zhejiang areas in east China have all reported human cases of H7N9 this winter.
The H7N9 bird flu strain was first reported to have infected humans in March, 2013.
WHO identified H7N9 as "...an unusually dangerous virus for humans", which "is more easily transmitted from poultry to humans than H5N1".
Bird flu, also known as avian flu or avian influenza refers to influenza caused by viruses adapted to birds.
It has caused a global concern owing to its possible transmission to humans and the threat of a pandemic if it mutates to a form that can be easily passed from birds to humans and then, from human to human.