Hafiz Saeed Challenges US To Take Him Out Like Osama
Islamabad, Apr 4: A combative Hafiz Mohammad Saeed, Jamaat-ud-Dawah chief, today dared the US to carry out a military raid against him like the one that killed Osama bin Laden, saying he was not hiding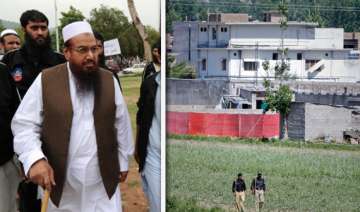 PTI
April 04, 2012 17:47 IST
Islamabad, Apr 4:
A combative Hafiz Mohammad Saeed, Jamaat-ud-Dawah chief, today dared the US to carry out a military raid against him like the one that killed Osama bin Laden, saying he was not hiding and would inform the Americans himself about his whereabouts.
Saeed made the remarks while addressing a news conference with other leaders of the Defa-e-Pakistan Council (DPC) at Flashman Hotel in the garrison city of Rawalpindi, located a short distance from the Pakistan Army's General Headquarters.  
This is his first press conference after American administration offered a reward of 10 million dollars for him on Monday.
He even taunted the US to give him the bounty offered for him under the Rewards for Justice programme, saying he would inform American authorities about his whereabouts.  
"I am not hiding in caves and mountains, I am here in Rawalpindi," he said.
Saeed offered to make public his itinerary for the next few days, saying he intended to travel to Narowal in Punjab later in the day and then go to Lahore tomorrow.  
He even claimed that if the US gave him the bounty, he would use the money in the impoverished province of Balochistan and account for its expenditure.  
Reiterating his claim that the JuD and its workers had no links to the 2008 Mumbai attacks, he contended that there was no evidence against him.
He dismissed allegations about his involvement in terrorism as "Indian claims that are part of media propaganda".