Hafiz Saeed dismisses rise in number of voters in J&K
Islamabad: Chief of banned terror outfit Jamaad-Ud-Dawa and 26/11 mastermind Hafiz Saeed on Friday admitted that his organization helps the Pakistani Army in supporting the struggle for a free Kashmir.Dismissing the rise in number of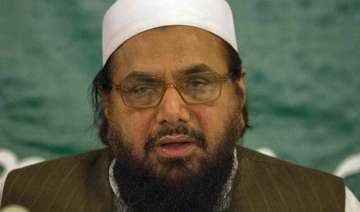 India TV News Desk
April 18, 2015 19:45 IST
Islamabad: Chief of banned terror outfit Jamaad-Ud-Dawa and 26/11 mastermind Hafiz Saeed on Friday admitted that his organization helps the Pakistani Army in supporting the struggle for a free Kashmir.
Dismissing the rise in number of voters in J&K elections as a mere faux pas, Hafeez alleged that Indian Army takes the voters out of their home. He also sought plebiscite on Kashmir as India has promised to the United nations.
Also Read: Hafiz Saeed comes in support of Masarat Alam, seeks Pakistan govt intervention
In an interview to a private news channel, Saeed said, "We say that whatever stance our military takes adopts and moves forward for the rights of Kashmiris, that is jihad; Pakistan's government have always maintained that people of Kashmir should get their rights. we will help Kashmiris along with Pakistan, the Pakistan Army and the Pakistani administration."
Condemning the arrest of Masarat Alam, The JUD chief said,"Is it justified to arrest Masarat Alam the way he was yesterday? He had hoisted a Pakistan flag in Kashmir, not in Delhi. Kashmir is disputed area, so nothing is wrong.

Also Read: Separatist Masarat Alam to succeed Hurriyat hardliner Syed Ali Shah Geelani
Masarat Alam was arrested by the J&K Police for raising pro-Pakistan slogans and hoisting Pakistan flags at a rally in Srinagar earlier this week.