Hafiz Saeed Says, India May Be Zardari's Favourite, But Not For Pakistani People
Lahore, April 10 : A nonchalant Mohammed Hafiz Saeed,  chief mastermind of 26/11 Mumbai attacks and chief of Jamaat-ud-Dawa (formerly Lashkar-e-toiba) on Monday lashed out at Pakistan president Asif Ali Zardari at a public rally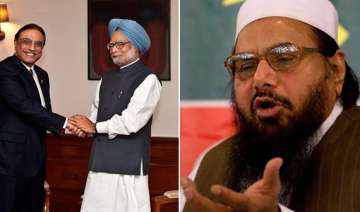 PTI
April 10, 2012 8:28 IST
Lahore, April 10 :
A nonchalant Mohammed Hafiz Saeed,  chief mastermind of 26/11 Mumbai attacks and chief of Jamaat-ud-Dawa (formerly Lashkar-e-toiba) on Monday lashed out at Pakistan president Asif Ali Zardari at a public rally .
Addressing a rally in Sahiwal in Pak Punjab province, Saeed said India may be a favourite of Zardari's, but India will never be a favourite for the Pakistani people.
Saeed heads the Difa-e-Pakistan Council (DPC- Save Pakistan), which is carrying out nationwide protests demanding halt to Nato supplies passing through Pakistan, and a halt to US Drone attacks.
Saeed  mentioned the $ 10 million reward announced on his head by the US, and challenged the US to provide this money to him.
"If they give this money to me, I am ready to appear before any court which the US would like me to appear. I will spend the money on Balochistan".  
The DPC leader said that they wrote letters to the members of parliament in order to express their concerns regarding the resumption of Nato routes.
Saeed said that they clearly told Army chief Gen Ashfaq Pervez Kiyani and  the establishment regarding their intention on Nato supplies and said that Nato routes should not be restored.
"A conspiracy of making Pakistan a failedistate is being hatched up by International powers," he claimed.
Saeed further said that the council would organise a public meeting on April 15 in Peshawar.