India is now entering the Asia equation dominated by China: Henry Kissinger
Washington: India is now entering the Asia equation which as of now is being dominated by China, a former top US diplomat and national strategist said today, days after President Barack Obama's successful visit to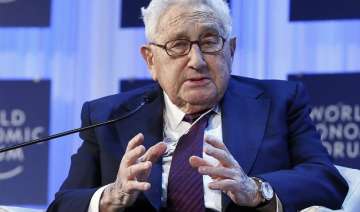 PTI
January 30, 2015 7:50 IST
Washington: India is now entering the Asia equation which as of now is being dominated by China, a former top US diplomat and national strategist said today, days after President Barack Obama's successful visit to the country.
A special aspect of any Asian system will be the relationship between the US and China, former Secretary of State Henry Kissinger told members of the Senate Armed Services Committee during a Congressional hearing.
"Now India is entering this equation. With vast economic potential, a vibrant democracy, and cultural links to Asia, the Middle East, and the West, India plays a growing role that the United States will naturally welcome. The emphasis should be on social and political alignments, not strategic groupings," Kissinger said.
He said the equation between United States and China is often described as one between a rising power and an established power.
"Two successive American and Chinese presidents have announced their joint aim to deal with this matter on the basis of cooperation. Significant spokesmen in both countries have stressed the adversarial aspect. The direction taken will play a defining role in our period," Kissinger said.
He noted in Asia, many economies and societies are flourishing. "At the same time, a number of these countries are contesting with each other over territorial claims, so far without clear limits or arra ..
The former top American diplomat said that the US finds itself in a paradoxical situation.
"By any standard of national capacity, we are in a position to achieve our objectives and to shape international affairs," he said.
"Yet as we look around the world, we encounter upheaval and conflict. The United States has not faced a more diverse and complex array of crises since the end of the Second World War," Kissinger said.
"One reason is that the nature of strategy has shifted from an emphasis on objective strength, to include a major component defined by psychological contests and asymmetric war. A second reason is that the existing international order itself is being redefined," he added.
"The President's historic trip to India this week cemented the positive progress we are making in strengthening another vital relationship in the region," Albright said.