Huge weapons cache seized in Bangladesh near India's border
Dhaka: A huge cache of illegal weapons, including around 200 anti-tank rocket shells, was seized today by Bangladesh's elite security force in a jungle bordering Tripura, the single biggest arms recovery since the 2004 Chittagong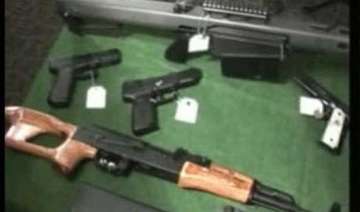 PTI
June 04, 2014 7:36 IST
Dhaka:
A huge cache of illegal weapons, including around 200 anti-tank rocket shells, was seized today by Bangladesh's elite security force in a jungle bordering Tripura, the single biggest arms recovery since the 2004 Chittagong case.
Rapid Action Battalion (RAB) recovered the weapons in Satchharhi jungles of Habiganj's Chunarughat Upazila from what was once perhaps the headquarters of the now-weakened All Tripura Tiger Force (ATTF).
"We recovered 184 high explosive anti-tank rockets and 153 chargers so far from seven abandoned bunkers... search is underway for more," RAB's spokesman Wing Commander A T M Habibur Rahman told reporters.
"We are also investigating the possibility of dumping of the arms by any Indian terrorist group," Rahman said. Another official told reporters that the raid was conducted on a tip-off. There might be more ammunition, he was quoted as saying by bdnews24.com.
The recovery at Satchharhi is perhaps the single biggest case of arms seizure since the 2004 Chittagong arms case. The huge cache was found inside bunkers dug in deep holes in a hillock, the official said.
The source of the ammunition will be known after further investigation, he said. No arrests however were made in this connection.
The RAB officials were preparing to conduct the drive for several days in Satchharhi, barely 3 kms from the border with Tripura.
Around 100 RAB personnel participated in the raid. The drive will resume tomorrow, the official said.
"We have unearthed locations of six more bunkers approximately 10 to 15 feet below the ground level of the Satchhari forest. We will continue our drive for some days to recover more arms and ammunition from the forest and its adjoining areas," another official said.
RAB dog squad and its bomb disposal team jointly conducted the operation and recovered the arms and ammunition which were in abandoned in a bunker in the forest, he added.