Hussain Haqqani's Wife Denies She Criticized Pak Army, ISI
London/Islamabad, Jan 23: Causing a flutter in Islamabad's political and media circles, a UK paper claimed that Pakistan President Asif Ali Zardari's media adviser and wife of former envoy to US Husain Haqqani has fled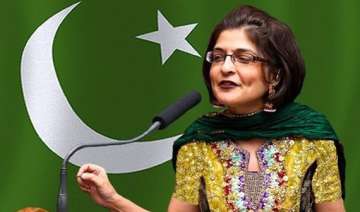 PTI
January 23, 2012 17:21 IST
London/Islamabad, Jan 23: Causing a flutter in Islamabad's political and media circles, a UK paper claimed that Pakistan President Asif Ali Zardari's media adviser and wife of former envoy to US Husain Haqqani has fled the country fearing kidnapping by ISI, only to be refuted by her. 

As per the Sunday Times report, Farahnaz Ispahani fled to Washington amid fears that ISI might kidnap her to force her husband to sign a confession and implicate the president. 

"What we're seeing is the systematic killing or silencing of anyone who stands up to the institutionalisation of a militarised Islamist state, who advocates positive relations with the West or stands up for tolerance," she was quoted as saying.

"I'm scared. The government can't even protect itself." The statement created a flutter as it was picked up by Geo News channel in Pakistan.

Within hours, the social media including twitter was abuzz with news of her alleged statements.

However, the Pakistani media later reported that Ispahani, has rejected the reports attributed to her that she ran away fearing abduction.

Farahnaz said she didn't give interview to anyone adding that she respected ISI and Army.

"I came here to meet my children and going home soon", Geo News quoted her as saying. 

She also tweeted saying, "Thanks for ur concern. Have been in the US for a few weeks for medical checkups. Will be home soon InshAllah".