India Asks Traders To Stay Away from Yiwu, After Chinese Force Two Traders To Eat Human Excreta, Drink Urine
Beijing, Jan 3: Two Indian traders, Shyamsundar Agrawal and  Deepak Raheja, who were virtually held captive and tortured by local traders in China's Yiwu trade hub, have now been shifted to a hotel for "safety"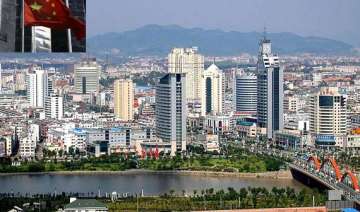 PTI
January 03, 2012 16:29 IST
Beijing, Jan 3: Two Indian traders, Shyamsundar Agrawal and  Deepak Raheja, who were virtually held captive and tortured by local traders in China's Yiwu trade hub, have now been shifted to a hotel for "safety" reasons by the police, even as India issued an advisory asking its traders to "stay away" from the busy commodity centre.

Police in Yiwu, a trade hub in Zhejiang province close to Shanghai, shifted Shyamsunder Agrewal and Deepak Raheja to a hotel where two policemen were deployed to guard them.

Raheja told PTI over phone that they still apprehend trouble as a large crowd of locals had surrounded their hotel.

Indian officials said efforts were on to bring them to Shanghai.

The two, who complained of ill-treatment and torture ever since they were "kidnapped" on December 15, said they were merely employees of a company that owed payments to local suppliers for the goods purchased and that their owner, whose identity has not been established, had fled.

The local traders, who reportedly handed them over to the police, assert that they would let them go only after the dues amounting to several million yuans are paid.

Indian diplomat S Balachandran was "manhandled" at a court and fainted as he tried to secure the release of the two traders on December 31, prompting India to lodge a protest.  He is convalescing at a hospital in Shanghai.

Meanwhile, an advisory from the Indian Embassy in Beijing, cautioned Indian businessmen in dealing with traders in Yiwu, which has emerged as a major hub for commodities trading. 

"Indian traders and business men are hereby cautioned not to do business with Yiwu in Zhejiang province," a trade advisory posted on the Indian Embassy website said today. 
"All people who have business/trade with Yiwu are cautioned against doing business there and all people who do not have business/trade with Yiwu are requested to be careful that they do not do business with Yiwu. Indian businessmen are cautioned to stay away from Yiwu," the advisory said. 

According to unofficial estimates Indian businessmen bought over several billions of dollars worth of goods last year. Over 100 Indian businessmen live in Yiwu doing thriving business there.

They "should be aware that when there are trade disputes with Yiwu, the Indian businessmen/traders can be illegally held under detention and mistreated by Chinese businessmen there," it said.

"Based on experience, there is no guarantee that legal remedies will be readily available. Furthermore, in case of disputes arising, experience suggests that there is inadequate protection for safety of persons," it said, without directly mentioning the detention of two Indians.
 
Furious Chinese traders who held the two Indian businessmen Deepak Raheja and Shyamsundar Agrawal forced both of them to eat human excreta and drink urine, the businessmen told the Indian diplomat who had gone to Yiwu city near Shanghai to intervene.

The Times of India reported that the two businessmen working for a Yemeni firm Euro Global Trading were taken hostages by the Chinese traders, after the firm failed to up dues amounting to several million yuans.

Both the businessmen come from Mumbai but Agrawal's family is based in Dubai. 

The firm's owner, believed to be a Yemeni or a Pakistani national, has fled the country, the businessmen said.

Agrawal told Times of India: "Please save us. We are afraid of leaving the police station because we might be killed".

After their family members frantically rang up the Indian consulate in Shanghai, diplomat S. Balachandran was sent to intervene.

On Saturday while Balachandran was closeted for nearly six hours in prolonged talks with the Chinese traders and the court officials to free Agrawal and Raheja.

Balachandran, a diabetic, wanted food and medicines during the negotiations, but was denied.

When he emerged from the room, he saw the frantic Indian businessmen and the angry Chinese traders. He collapsed and was rushed to the hospital. 

Balchandran was moved to Shanghai on Jan 1 and hospitalized where he is reported to be out of danger.

"We have been tortured for the last two weeks by the Chinese traders. We have been beaten, made to do terrible things. Even the medical test done on court orders shows my mind has been affected by the torture," Raheja told TOI.

Yiwu has a thriving wholesale commodities market.

More than 100 Indian traders live there, but many more visit the city for business.