India ends Operation Rahat, evacuates 5,600 from Yemen
New Delhi:  India has ended 'Operation Rahat', the massive effort at evacuating its nationals from Yemen, pulling out 5,600 people, authorities said.Besides 4,640 Indians, 960 people from 41 countries were also evacuated from the strife-torn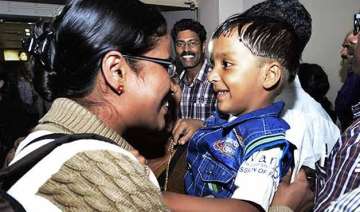 IANS
April 10, 2015 20:27 IST
New Delhi:  India has ended 'Operation Rahat', the massive effort at evacuating its nationals from Yemen, pulling out 5,600 people, authorities said.
Besides 4,640 Indians, 960 people from 41 countries were also evacuated from the strife-torn country. The youngest to be pulled out was a barely three days old baby who was flown back to Kochi inside an incubator.
External Affairs Minister Sushma Swaraj tweeted: "The evacuation operation from Yemen is over. General V.K. Singh is returning tonight. We are closing our Embassy there."
Earlier, external affairs ministry spokesperson Syed Akbaruddin tweeted that India concluded its evacuation efforts in Sana'a by airlifting over 630 people by three special Air India flights from the Yemeni capital.
Akbaruddin said the security situation in Yemen has deteriorated further with a bomb blast at Aden port on Thursday.
"India completes its air evacuations from Sana'a. The total number of Indians evacuated from Sana'a by air has crossed 2,900 by 18 special flights since the beginning of the air operations," an external affairs ministry statement said.
"Indian naval vessels have also evacuated over 1,670 Indians from Aden, Al Hudaydah and Al Mukalla ports in Yemen since 31 March," the statement said. "Indian Naval Ship INS Sumitra evacuated 349 people, including 46 Indians and 303 foreign nationals from Al Hudaydah port on April 9."
The spokesperson tweeted a photograph of a three-day-old baby who was evacuated from Yemen and sent back to Kochi.
"Youngest evacuee from Yemen. A 3-day baby in incubator along with an accompanying doctor on AI flight to Kochi," he wrote.
Minister of State for External Affairs V.K. Singh, who returned here on Friday morning, said that Mission Yemen has been successful because of good team work and coordination.
Speaking to reporters, he said there was good coordination between Air India, the Indian Air Force, the Indian Navy and the external affairs ministry.
"I was given a task by the prime minister and the external affairs minister in Yemen and I have done it," said Singh. "Around 5,500 Indians were evacuated and around 1,000 foreigners have been pulled out from Yemen," he said.