India wants to see early promulgation of statute in Nepal: S Jaishankar
Kathmandu: India today said it wants to see early promulgation of Nepal's new Constitution to resolve the political logjam, Foreign Secretary S Jaishankar today said as he held "fruitful" discussions with top Nepalese leadership on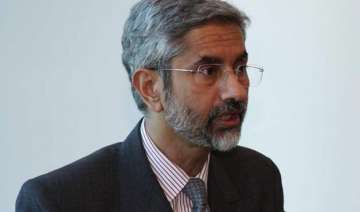 PTI
April 03, 2015 21:31 IST
Kathmandu: India today said it wants to see early promulgation of Nepal's new Constitution to resolve the political logjam, Foreign Secretary S Jaishankar today said as he held "fruitful" discussions with top Nepalese leadership on their multifaceted bilateral ties.
Jaishankar, who arrived here on the second leg of his 'SAARC Yatra' yesterday on a two-day visit, called on President Ram Baran Yadav and Prime Minister Sushil Koirala today.
He also met his Nepalese counterpart Shanker Das Bairagi and top leaders of various political parties, including CPN-UML chairman K P Sharma Oli.
"I had fruitful discussions with Foreign Secretary Shankar Bairagi during which we reviewed the progress made in our multifaceted bilateral relationship," Jaishankar said.
The Foreign Secretary also expressed India's willingness to help Nepal attain economic prosperity by establishing lasting peace and political stability, he said.
"India is committed to working with the people of Nepal for a democratic, stable, peaceful and prosperous Nepal," Jaishankar said talking to mediapersons at the Tribhuvan International Airport before his departure.
"Our relations with Nepal are and will continue to be a matter of the highest priority for India," he said.
Senior leader of the Nepali Congress Arjun Narsing K C quoted Jaishankar as saying that India wants Nepal to resolve its ongoing political crisis by promulgating a new Constitution soon.
"India wants to see early promulgation of the constitution in Nepal and resolution of all the issues by forging consensus among the political parties," he said.
Jaishankar's visit came at a time when Nepal's ruling and opposition alliances are sharply divided on key issues of the Constitution, mainly the federal structure and forms of governance.
Jaishankar, however, made it clear that India is in no way interested to interfere in Nepal's affairs, and said "how Nepal wants to move forward entirely depends on the people and the leadership of the country," Narsing told PTI.
Foreign Affairs Advisor Dinesh Bhattarai said that during the meeting with Koirala, the progress on implementation of projects of mutual benefits and bilateral agreements signed during the first visit to Nepal by Prime Minister Narendra Modi was discussed.
Jaishankar had a series of meetings with senior political leaders here, including UCPN-Maoist chief Prachanda, vice- chairman of the party Baburam Bhattarai, Chairman of the Constituent Assembly Subhash Nemwang, Foreign Minister Mahendra Pandey and Foreign Secretary Shanker Bairagi.