Indian national Gopinathan escapes gallows, gets life term in Singapore
Singapore: Indian national Gopinathan Nair Remadevi Bijukumar was today re-sentenced to life imprisonment under Singapore's amended penal code that saved him from a mandatory death penalty for the murder of a prostitute.Justice Choo Han Teck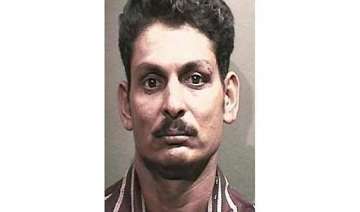 PTI
August 28, 2013 18:48 IST
Singapore:
Indian national Gopinathan Nair Remadevi Bijukumar was today re-sentenced to life imprisonment under Singapore's amended penal code that saved him from a mandatory death penalty for the murder of a prostitute.
Justice Choo Han Teck also sentenced Gopinathan to 18 strokes of the cane for the murder. Gopinathan, a 37-year-old former shipyard worker, was found guilty of murdering Filipino prostitute Roselyn Reyes Pascua in her rented room on Bencoolen Street in Singapore's Central business district in March 2010.
The penal code, amended in November last year, gives judges sentencing discretion in some murder cases. Previously, the death penalty was mandatory in all murder cases.  
The Court of Appeal had sent back Gopinathan's case to the High Court for re-sentencing, Channel News Asia reported.  
Gopinathan claimed he had stabbed the woman after she attacked him and refused to return money he had paid her for sexual services.
She was found dead in the room.  Deputy Public Prosecutor Adrian Loo had asked the court to impose 24 strokes of the cane on Gopinathan, citing the amount of violence inflicted and the extensive injuries suffered by Pascua.
Loo pointed out that Gopinathan had knifed her in the heart, neck, abdomen and vagina. He said there was absence of any evidence that Gopinathan was suffering from any abnormality of the mind.
But Gopinathan's lawyers Shashi Nathan, Raphael Louis and Tania Chin asked for between 12 and 15 strokes of the cane.
They said there was no planning or pre-meditation involved in the incident, and pointed out that there was an element of provocation.
Gopinathan, who appeared expressionless throughout the hearing, exchanged a few words with his lawyers before being led away.
The amended penal code and Misuse of Drugs Act came into effect this year, removing the mandatory death penalty for certain types of homicide and drug trafficking offences in a move to "temper justice with mercy".  
Gopinathan is the third person on death row for murder to be re-sentenced to life imprisonment, according to the report.