Iran detains Indian ship carrying oil from Iraq
New Delhi: Iranian Revolutionary Guard Corps have detained an Indian ship carrying oil from Iraq in the Persian Gulf, source said. The ship, MT Desh Shanti, was on its way to India from Iraq when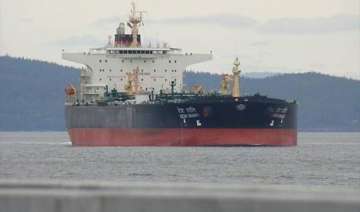 India TV News Desk
August 15, 2013 20:03 IST
New Delhi:
Iranian Revolutionary Guard Corps have detained an Indian ship carrying oil from Iraq in the Persian Gulf, source said.
The ship, MT Desh Shanti, was on its way to India from Iraq when it was detained by the IRGC.
The ship is owned by the Shipping Corporation of India.
The SCI ship was detained while it was passing through international waters in the Persian Gulf, and was forced to to go to Bandar Abbas port in Iran.
The development has stunned authorities here as it was transporting oil from Iraq, a country which has overtaken Iran as the second largest supplier of crude to India after Saudi Arabia.
The government-owned ship was detained in international waters in the Persian Gulf before being coerced into entering Iranian waters. Late Wednesday evening, the ship was on its way to the Bandar Abbas port, guided by the IRGC.
Sources said Iran alleged that the Indian oil tankr was polluting Iranian waters, but India says this was a flimsy excuse given by Iranian authorities.
Although India has taken steps to reduce its crude imports from Iran due to US and EU sanctions, Tehran had never hinted that it could resort to such drastic actions.
The cut, in fact, helped India -- along with China and South Korea -- win a waiver from the US allowing it to continue to import crude from Iran.
In 2012, India is estimated to have imported crude from Iraq worth more than $15 billion.
Indian Oil is the largest importer of crude oil from Iraq.
In October 2010, Iraq replaced Iran as the country with the third largest proven reserves of 143.1 billion barrels of oil.