Iraq Suicide Bomber Kills 50 At Pilgrimage Climax
Basra (Iraq), Jan 14: A suicide bomber killed 50 people in an apparent sectarian attack in south Iraq today casting a pall over the climax of a Shiite pilgrimage that draws hundreds of thousands from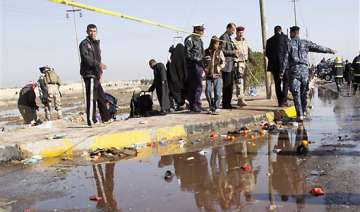 India TV News Desk
January 14, 2012 18:13 IST
Basra (Iraq), Jan 14: A suicide bomber killed 50 people in an apparent sectarian attack in south Iraq today casting a pall over the climax of a Shiite pilgrimage that draws hundreds of thousands from around the world.  

The attack on Shiite devotees on the outskirts of the port city of Basra, which left 100 wounded, came with Iraq mired in a political row that has pitted the Shiite-led government against the main Sunni-backed bloc and stoked sectarian tensions less than a month after US forces completed their pullout.

The violence was the latest in a spate of attacks against Shiite pilgrims in the two weeks leading to the conclusion of Arbaeen, which marks 40 days after the Ashura anniversary commemorating the slaying of Imam Hussein, one of Shiite Islam's most revered figures, by the armies of the caliph Yazid in 680 AD.

The bombing killed 50 people and wounded 100, the head of Basra province's health department, Riyadh Abdulamir, said. He said women and children were among the casualties, but did not give further details.

The attacker, who had been distributing cake to pilgrims walking to the Khutwa Imam Ali, a site on the outskirts of Basra venerated by believers for its associations with one of the key figures of their faith, blew himself up near a police checkpoint.

Pilgrims in southern Iraq who cannot visit the central shrine city of Karbala to mark Arbaeen typically make the shorter trip to Khutwa Imam Ali, which lies around 12 kilometres west of Basra.

Hundreds of thousands did make it to Karbala today amid massive security in face of the Sunni insurgent threat.

Officials said some 15 million pilgrims have passed through the city in the past two weeks leading up to the end of the commemorations, including some 500,000 from outside Iraq.

Waves of mourners swamped Hussein's shrine, parading their remorse for not defending him by beating their heads and chests in rituals of self-flagellation.

Sad songs blared from loudspeakers throughout the city and black flags fluttered alongside pictures of Hussein and his half-brother Imam Abbas, both of whom are buried in the city.

"We are challenging the terrorists," said 45-year-old Mehdi Hussein, who was on his way back to Baghdad after completing the rituals.

"Those people who are carrying out their attacks are idiots and stupid if they think they will stop us from walking to Karbala."

Hussein said the example of Nazhan Faleh, a Sunni Arab army captain who gave his life to protect Shiite pilgrims from a suicide bomber earlier this month, had "strengthened our unity".

Karbala governor Amal al-Din al-Har told AFP that while services had so far gone smoothly, the province's power and road networks were overwhelmed by the sheer number of pilgrims.

He added that various Iraqi ministries had provided buses for devotees to be transported back to their home provinces.

Some 35,000 police and troops were deployed to provide security throughout the rituals, with a further two brigades added to protect pilgrims heading home, said Lieutenant General Othman al-Ghanimi, who commands forces across central Iraq.

Among them were 500 policewomen charging with assisting in checkpoint searches, as well as sonar detectors and sniffer dogs.

Ghanimi said no incidents had been reported in Karbala. Provincial health department spokesman Jamal Mehdi said that hospitals in the shrine city had treated 20,000 pilgrims but that there had been no deaths.