Islamic State pay cuts forcing fighters to join rival groups: Report
Washington: The recent defeats of the Islamic State (IS) signify its worsening money problems, desertions and a dwindling pool of fighters with many of them joining rival militant groups after facing pay cuts, according to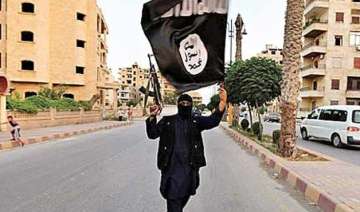 PTI
February 08, 2016 17:13 IST
Washington: The recent defeats of the Islamic State (IS) signify its worsening money problems, desertions and a dwindling pool of fighters with many of them joining rival militant groups after facing pay cuts, according to a media report.
Citing top analysts and monitoring groups, the Washington Post reported that the recent losses of the terror group are linked to its struggles to pay fighters and recruit new ones to replace those who have deserted, defected to other militant groups or died on the battlefield.
Losing turf
U.S.-backed Kurdish and Arab forces have seized significant amounts of territory from the extremist group in the parts of Iraq and Syria where it declared a caliphate in 2014.
"These issues suggest that as an entity that is determined to hold onto territory, the IS is not sustainable," Jacob Shapiro, an expert on the Islamic State who teaches politics at Princeton University, was quoted as saying.
And, deserters are on the rise
There appears to be a rise in the number of IS fighters who have deserted or, in the case of the Syrian conflict, defected to other militant groups, Vera Mironova, an expert on armed groups in Syria and Iraq at Harvard University's Belfer Centre, was quoted as saying.
The salary and benefit cuts have caused "for-profit militants" in Syria to increasingly "look for better deals" with other armed factions, she said.
The group, she has said, is also struggling to replenish ranks of its foreign fighters, who tend to be more ideologically-driven but also die in relatively large numbers on the battlefield.
Juggernaut, no more
Only a year ago, the IS was seen as a juggernaut — rich, organised and fielding thousands of motivated fighters — but in recent months, its momentum has been reversed, the report said.
U.S. military officials estimate that the group has lost as much as 40 per cent of the territory it held in Iraq and as much as 20 per cent in Syria, it said.
Kurdish and Arab forces, including Iraq's increasingly competent military, have advanced against the group with the help of airstrikes from a U.S.-led coalition.
Its key oil infrastructure damaged
The air raids have damaged the IS's oil infrastructure, a key revenue source, and the territorial setbacks have stripped the group of populations to tax and assets to seize, analysts say.
All of this, they say, appears to have forced the group to reduce salaries and benefits for fighters.
Last month media reports had said the terror group's Bayt al-Mal, the Treasury Ministry, has decided to cut the salaries of its fighters in half due to the "exceptional circumstances" the IS has been witnessing.