ISIS video shows child executing two Russian agents
Beirut: The Islamic State terrorists have released a new video showing a young boy executing two agents of Russian intelligence services.The footage shows a boy, having long hair and dressed in a black zip-up sweater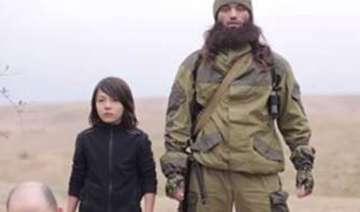 India TV News Desk
January 14, 2015 12:54 IST
Beirut: The Islamic State terrorists have released a new video showing a young boy executing two agents of Russian intelligence services.
The footage shows a boy, having long hair and dressed in a black zip-up sweater and military-style trousers, shoots the two kneeling agents in the back of their heads. An ISIS militant was accompanying the boy at the time of shooting.
The video opens with the interrogation of one of men who says that he is Kazakh citizen and that he was recruited by Russia's Federal Security Service. The second man said that he worked for the FSB in Russia previously. The two also revealed that they were tasked to gather information about ISIS.
Meanwhile, reports have also emerged that the executions may be staged for camera.
IS has held multiple foreign hostages, including a number of Western journalists and aid workers, beheading five of them in gruesome videos published online.