Islamic cleric in Peshawar hails Charlie Hebdo attackers
Peshawar: A local Islamic cleric Maulana Pir Mohammad Chishti with a few dozens of supporters on Tuesday paid tributes to the two Kouachi brothers who carried out the heinous carnage at the office of French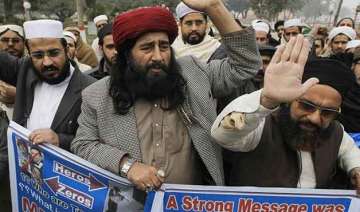 India TV News Desk
January 13, 2015 18:30 IST
Peshawar: A local Islamic cleric Maulana Pir Mohammad Chishti with a few dozens of supporters on Tuesday paid tributes to the two Kouachi brothers who carried out the heinous carnage at the office of French satirical newspaper Charlie Hebdo last week.
Carrying posters saying "A strong message was needed", the Maulana said, the two brothers acted only because, he added,  those killed had insulted the Prophet.
The Maulana and his supporters laid wreaths in front of a big poster which declared "We are here to acknowledge dareness (sic) of our brother Cherif Kouachi and Said Kouachi who achieved martyrdom to combat blasphemy".
The cleric and his supporters chanted slogans "Hebdo publications murdabad" "Long Live Cherif Kouachi, Long Live Said Kouachi".
Maulana Pir Mohammad Chishti said: "These two brothers have paid the debt of all Muslims in the world and we present them our salute and respect."
Aurangzeb Alhafi, a Professor of Islamic Studies at Punjab University, Lahore, said: "I attended the prayers as a religious duty. If freedom of expression stops at the mention of the Holocaust, then it should also stop at the honour of our Prophet."
Last  week's attack on French satirical magazine Charlie Hebdo sparked global outrage, with several millions of people coming out on the streets of Paris and other European cities to condemn the massacre.
Twelve people were shot dead — including a French Muslim policeman Ahmed Merabet — when the Kouachi brothers stormed into the Charlie Hebdo offices to kill the newspaper editor and six other columnists.