Islamic State determined to strike US this year, warns intelligence
Washington/United Nations: Senior US intelligence officials have warned that militants of terror group Islamic State are determined to strike targets in the United States this year and a small group of extremists will attempt to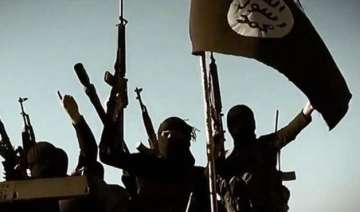 India TV News Desk
February 10, 2016 10:52 IST
Washington/United Nations: Senior US intelligence officials have warned that militants of terror group Islamic State are determined to strike targets in the United States this year and a small group of extremists will attempt to overcome the logistical challenges of mounting such an attack.
In testimony before congressional committees, Director of National Intelligence James Clapper and other officials described the Islamic State as the 'pre-eminent terrorist threat.' The militant group can direct and inspire attacks against a wide range of targets around the world.
Marine Lt. Gen. Vincent Stewart, director of the Defense Intelligence Agency, said the Islamic State will probably conduct additional attacks in Europe and then attempt the same in the US.
He said US intelligence agencies believe ISIS leaders will be increasingly involved in directing attacks rather than just encouraging lone attackers.
Clapper also said al-Qaida, from which the Islamic State spun off, remains an enemy and the US will continue to see cyber threats from China, Russia and North Korea, which also is ramping up its nuclear program.
Assad govt in Syria unlikely to collapse
On Syria, Stewart said he does not think the Syrian government of Bashar Assad is likely to collapse or be defeated in the near term because of increased support from Iran and Russia. He said Assad's forces will likely regain key territory in some key areas.
"He certainly is in a much stronger negotiating position that he was just six months ago," Stewart said.
He predicted, however, that Iranian and Russian interests in Syria will likely diverge because they won't share the stage there as a regional power. For now, however, Iran wants to maintain its relations with Moscow so it can purchase Russian arms without preconditions.
Russian bombs hurting Syria peace talks: US
US Secretary of State John Kerry said that Russia's aerial bombardment of Syrian opposition targets could derail efforts to re-start talks to end the country's brutal civil war.
Kerry and his Russian counterpart Foreign Minister Sergei Lavrov are due in Munich on Thursday to host a meeting of a 17-nation contact group designed to get the talks back on track.
"There is no question, and I have said this before publicly, that Russia's activities in Aleppo and in the region right now are making it much more difficult to be able to come to the table and to be able to have a serious conversation," Kerry said.
"And we have called on Russia and we call on Russia again to join in the effort to bring about an immediate ceasefire and to bring about full humanitarian access," he added.
ISIS an unprecedented threat to international peace: UN
Meanwhile, in a grim report on the Islamic State's threat to international peace and security presented to the Security Council Tuesday, UN Secretary General Ban Ki-moon said groups like the Tehreek-e-Khilafat in Pakistan 'are sufficiently attracted by its underlying ideology to pledge allegiance to its so-called caliphate and self-proclaimed caliph'.
Ban called the terrorist organisation Islamic State 'an unprecedented threat to international peace and security'.
"This is a matter of considerable concern, since these groups appear to be emulating ISIS's tactics and carrying out attacks on its behalf," he said.
"In 2016 and beyond, member states should prepare for a further increase in the number of foreign terrorist fighters travelling to other States on the instructions of ISIS," he added.
The Islamic State now controls swaths of territory in Iraq and Syria, but Ban said, "The recent expansion of the ISIS sphere of influence across West and North Africa, the Middle East and South and South-East Asia demonstrates the speed and scale at which the gravity of the threat has evolved in just 18 months."
ISIS developing network in Pak, Afghan
"In Afghanistan and Pakistan, ISIS continues to develop a network of contacts and sympathisers who carry out attacks in its name," Ban said. "On 13 January 2016, the ISIL group 'Khorasan Province,' which operates in Pakistan and Afghanistan, issued a statement claiming credit for an attack on the Pakistani Consulate in Jalalabad, Afghanistan."
"The complexity of the recent attacks and the level of planning, coordination and sophistication involved raise concerns about its future evolution," he warned.
An incident not included in Ban's report was the Islamic State taking responsibility for killing more than 40 people in a bus attack in Karachi.
Pakistan appears conflicted in dealing with the Islamic State challenge. Last October, General Raheel Sharif, the Pakistani Chief of the Army Staff, was quoted in the Pakistani media as saying, "There are people in Islamabad who want to show their allegiance to ISIS. So it's a very dangerous phenomenon."
However the next month, Pakistani Foreign Ministry issued a denial: "There is no footprint of ISIS's in Pakistan. We will also not tolerate anyone affiliated with it."
34 militant groups pledge allegiance to ISIS
Ban said in his report that till the middle of December 2015, 34 groups had reportedly pledged allegiance to ISIS. "In view of its territorial claims of more 'provinces,' it is expected that ISIL affiliates will increase in number and that its membership will grow in 2016," Ban said.
"It is able to adapt quickly to the changing environment and to persuade or inspire like-minded terrorist groups in various regions of the world to facilitate and commit acts of terrorism," he added.
Therefore, he said the international community must also be adaptive in its responses and 'take comprehensive approaches that incorporate security-led counter-terrorism initiatives and preventive measures'.