US certifies Pak's action against terror groups, paves way for aid
New Delhi: US Secretary of State, John Kerry, has certified Pakistan's action against terror outfits Lashkar-e-Taiba (LeT) and Jaish-e-Mohammad (JeM).Kerry's certification has made  Pakistan eligible for an aid package under the Kerry-Lugar Bill.  The Bill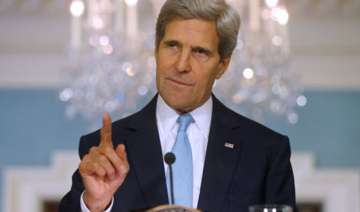 India TV News Desk
January 05, 2015 14:31 IST
New Delhi: US Secretary of State, John Kerry, has certified Pakistan's action against terror outfits Lashkar-e-Taiba (LeT) and Jaish-e-Mohammad (JeM).
Kerry's certification has made  Pakistan eligible for an aid package under the Kerry-Lugar Bill.  The Bill has 'actions against terror groups' as one of the conditions that Pakistan must fulfil to be eligible for aid from the US.
Kerry's certification indicates a major shift in US policy towards foreign aid to Pakistan as it significantly increases the civil aid given to the country.  
Passed by the US Congress in 2010, the Kerry-Luager Bill was proposed by John Kerry and Richard Lugar. It authorises the release of USD 1.5 billion per year to the Pakistan as non-military aid.
Meanwhile, US Ambassador to Pakistan, Richard Olson, disclosed that US President Barack Obama is expected to grant USD 532 million aid package soon to Pakistan under Kerry-Lugar Bill to spur economic growth, community building and counter-terrorism efforts.
The authorisation is also likely to spark outrage in India when Kerry will visit Gujarat's capital, Gandhinagar, on January 11 to take part in the Vibrant Gujarat Summit, ahead of US President Barack Obama's second visit to New Delhi. Obama will arrive in New Delhi to attend the Republic Day Parade on Jan 26 as chief guest.
John Kerry, after attending the Vibrant Gujarat Summit, will travel to Pakistan for US-Pak Strategic Dialogue.