John Kerry will go to Paris for talks on extremist violence
Ahmedabad: Secretary of State John Kerry on Monday said that he will travel to Paris this week for talks on countering extremist violence, following sharp criticism of the Obama administration for not sending a senior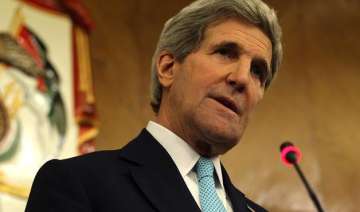 India TV News Desk
January 12, 2015 14:19 IST
Ahmedabad: Secretary of State John Kerry on Monday said that he will travel to Paris this week for talks on countering extremist violence, following sharp criticism of the Obama administration for not sending a senior official to Sunday's rally for unity in Paris that was attended by some 40 world leaders and more than a million people.
Kerry said at a news conference that U.S. officials, including himself and President Barack Obama, had been "deeply engaged" with French authorities almost immediately after the first attack occurred and had offered intelligence assistance.
As to criticism about the lack of a senior official at Sunday's March, Kerry said, "I really think that this is sort of quibbling a little bit in the sense that our Assistant Secretary of State Victoria Nuland was there and marched, our ambassador was there and marched, many people from the embassy were there and marched."
Obama had strongly condemned what he called a "cowardly, evil" terror attack in Paris and praised France for standing "shoulder to shoulder" in the fight against terrorism.
"As everybody knows, I have been here in India for a prior planned event," Kerry added. "I would have personally very much wanted to have been there but couldn't do so because of the commitment that I had here and it is important to keep these kinds of commitments."
Kerry said he is going to France to reaffirm U.S. solidarity with America's oldest ally. He said as soon as he heard about the march, he asked his team what the earliest time was that he could go.
"That is why I am going there on the way home and to make it crystal clear how passionately we feel about the events that have taken place there," he said. "I don't think he people of France have any doubt about America's understanding about what happened, about our personal sense of loss and our deep commitment to the people of France in this moment of trial."
Kerry had earlier spoke about the terrorist attack on the Paris offices of satirical weekly newspaper Charlie Hebdo, calling it "horrific" and reassuring the people of France that "each and every American stands with you today."
While in Paris, Kerry will be meeting with French Foreign Minister Laurent Fabius and pay tribute to the victims of last week's attacks, which killed 17 people.
Kerry will arrive in Paris on Thursday after stops in Sofia, Bulgaria and Geneva, Switzerland. In Geneva, on Wednesday Kerry will he meeting with Iranian Foreign Minister Mohammed Javad Zarif to discuss the status of nuclear negotiations that are to resume the next day.
Kerry will be the highest-ranking U.S. official to visit France since the terrorist attacks on a French newspaper and a kosher supermarket. Authorities say one of those involved in the attacks pledged allegiance to the Islamic State group in a video. He and two other suspected extremists were killed during police raids.
The U.S. ambassador to France, Jane Hartley, was the top American official at Sunday's unity march against barbarity.
Millions demonstrated across France, and rallies supporting the French were reported in major cities around the world.
Obama offered condolences last week at the French Embassy in Washington. "We stand united with our French brothers to ensure that justice is done and our way of life is defended," he said.
While attending an international conference in India, Kerry said the world stood with the people of France "not just in anger and in outrage, but in solidarity and commitment to the cause of confronting extremism and in the cause that extremists fear so much and that has always united our countries: freedom."
Kerry was in the Indian city of Ahmedabad on Sunday for a long-scheduled appearance at an international investment conference, and to prepare for President Barack Obama's trip to India later this month.