Kerry's visit brings Pakistan-US ties back on track: Pakistan
Islamabad, Aug 3: Pakistan yesterday said the visit of US Secretary of State John Kerry has "contributed to bringing back on track" bilasteral relations but it categorically conveyed its concern over drone strikes to Washington.Describing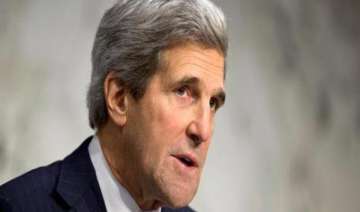 IANS
August 03, 2013 7:01 IST
Islamabad, Aug 3
: Pakistan yesterday said the visit of US Secretary of State John Kerry has "contributed to bringing back on track" bilasteral relations but it categorically conveyed its concern over drone strikes to Washington.
Describing Kerry's visit as a successful one, Pakistani foreign ministry spokesperson Aizaz Ahmed Chaudhry, while replying to reporters on resumption of strategic dialogue between Pakistan and the US, said five working groups would meet in the next two months, Xinhua reported.
These groups would hold hectic discussions on enhancement of cooperation in different fields, including energy and counter-terrorism, he added.
The ministerial-level strategic dialogue would be held in six months at the culmination of the work done by the working groups, he said.
The dialogue was suspended after US fighter jets bombed a Pakistani border post and killed 24 soldiers in late 2011.
Stating that Islamabad categorically conveyed its concerns over the drone attacks to the US during Kerry's visit, Chaudhry said: "Pakistan seeks relationship with the United States on the basis of mutual interest and respect."
"Our position on drone strikes has been noted and we hope it will receive due consideration," the spokesperson said, adding that drone attacks are in violation of Pakistan's sovereignty and international laws as well as counterproductive in the war against terrorism.
Kerry wrapped up his three-day visit Friday during which he called on President Asif Zardari, Prime Minister Nawaz Sharif and Army chief General Ashfaq Parvez Kayani, besides holding official talks with Pakistan's foreign affairs adviser Sartaj Aziz on bilateral relationship and regional issues