Khaleda Zia offers prayers at son's grave for the 1st time
Dhaka: Bangladesh's opposition chief and former premier Khaleda Zia today broke down as she visited her younger son's grave for the first time and offered prayers, over two months after his death in Malaysia.The 69-year-old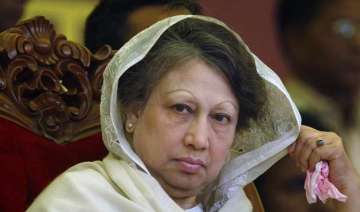 PTI
April 06, 2015 21:20 IST
Dhaka: Bangladesh's opposition chief and former premier Khaleda Zia today broke down as she visited her younger son's grave for the first time and offered prayers, over two months after his death in Malaysia.
The 69-year-old Bangladesh Nationalist Party (BNP) chairperson's visit to the grave of Arafat Rahman Koko came a day after she surrendered in a special anti-graft court that granted her bail in two corruption cases involving over USD 650,000.
She was accompanied by many leaders and activists of her party when she went to the Banani Graveyard here.
Zia stayed there for about 15 minutes and offered prayers at the grave of Koko, who passed away on Jauary 24 in Malaysia at the age of 45 due to a cardiac arrest and was buried after his body was brought here three days later.  The BNP chief was seen in tears while reciting verses from the Holy Quran and offering prayers, The Daily Star reported.
Self-exiled Koko first went to Thailand and lived there until 2011 and then went to Malaysia. A Dhaka court sentenced him to six years of imprisonment in 2011 after trial in absentia. Zia met Koko last in Singapore in 2012.
The BNP chief, who is also a three-time prime minister, left her upmarket Gulshan office yesterday for the first time since January 3.