Know about the world's 3 greatest gold treasure hunts
New Delhi: Treasure! The vaults of museums around the world are filled with precious antiquities, but who knows how many historical relics are still out there waiting to be discovered? Indian archeologists are digging up a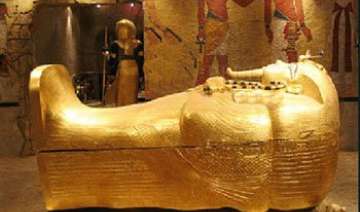 India TV News Desk
September 29, 2014 14:57 IST
New Delhi: Treasure! The vaults of museums around the world are filled with precious antiquities, but who knows how many historical relics are still out there waiting to be discovered? 

Indian archeologists are digging up a fort in Unnao district of Uttar Pradesh in quest of around 1000 tonnes of hidden gold treasure.

If this list proves anything, it's that anyone can strike it lucky... even you.  

Here listed are three world's 3 greatest gold treasure hunts. So grab your shovel, your metal detector and get digging.

1. Tutankhamen's mausoleum in Egypt (1922)




The discovery of King Tut's tomb in November 1922 created an obsession around the world.

The tomb of Tutankhamun was discovered by the archaeologist Howard Carter. It had been undisturbed for over 3,000 years and contained very important evidence about how pharaohs lived and died.  

Never before had the tomb of a pharaoh and all his treasures been discovered.  

The discovery of the virtually intact tomb of Tutankhamun became probably the best known and most spectacular archaeological find anywhere in the world.



The small tomb contained hundreds of objects (now housed in the Egyptian Museum in Cairo), many richly decorated and covered in gold, that would be needed by the king in his afterlife. 

A visit today to the tomb in the Valley of the Kings provides evidence and clues to the life in the times of the Ancient Egyptians.  

The colourful wall paintings depict some of the gods. The beetle or scarab represents the Egyptian god Khepri.