Know more about Saddam Hussain's personal life (in pics)
New Delhi: Iraqi dictator Saddam Hussain was born in a village called al-Auja, outside of Tikrit in northern Iraq. Either just before or just after his birth, his father disappeared from his life. Some accounts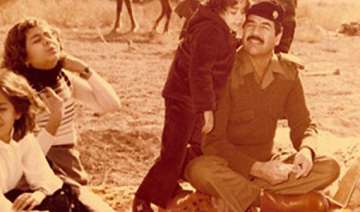 PTI
August 07, 2013 9:17 IST
New Delhi:
Iraqi dictator Saddam Hussain was born in a village called al-Auja, outside of Tikrit in northern Iraq. Either just before or just after his birth, his father disappeared from his life.
Some accounts say that his father was killed; others say he abandoned his family.
Saddam's mother soon remarried a man who was illiterate, immoral, and brutal. Saddam hated living with his stepfather and as soon as his uncle Khairullah Tulfah (his mother's brother) was released from prison in 1947, Saddam insisted that he go and live with his uncle.
Joining the military had been Saddam's dream and when he wasn't able to pass the entrance exam he was devastated. Later he moved to Baghdad, where he joined politics.
In 1957, at age 20, Saddam joined the Baath Party.  In 1968 he became the vice president of the Baath Party. On July 16, 1979, the president of Iraq resigned and Saddam officially took the position.
He  ruled Iraq with a brutal hand. He used fear and terror to stay in power.
Here are some pics from his personal moments: