4 die, 7 go missing as boat capsizes near Indo-Nepal border
Kathmandu: At least four persons, including a child were killed and seven others went missing when an overloaded boat capsized near the Indo-Nepal border, police said today.The ill-fated boat capsized last night near Halauna Ghat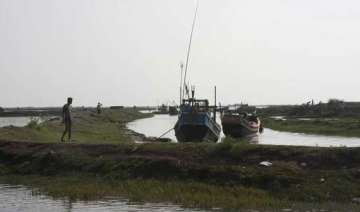 PTI
March 02, 2014 17:03 IST
Kathmandu:
At least four persons, including a child were killed and seven others went missing when an overloaded boat capsized near the Indo-Nepal border, police said today.
The ill-fated boat capsized last night near Halauna Ghat of Kailali district when the passengers were returning after shopping from a nearby Indian town of Tikunia in Uttar Pradesh, they said.
According to police, four bodies were recovered from Halauna Ghat of Lalboji-4, MyRepublica.com said.  
The boat, heading to Kailali from Beluwa, Tikunia in Uttar Pradesh had 22 passengers on board.  Some people survived the accident as they managed to swim to the shore, SP Mohan Joshi, Kailali police chief said.  
Four persons were rescued by India's Sashastra Seema Bal (SSB) and Nepal police, media reports said.  
Police and local people have launched search operation to find the missing people and the ill-fated boat.