Battle against Xinjiang militants tougher, crueler than ever
Beijing: The battle against militants fighting for separation of China's volatile Xinjiang province, bordering PoK and Afghanistan, is getting "tougher, fiercer and crueler than ever" due to the revival of pan-Islamic extremist groups, top Chinese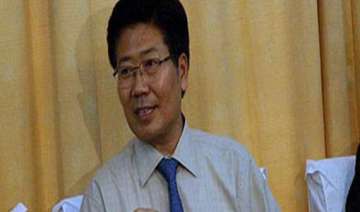 PTI
March 04, 2014 16:30 IST
Beijing:
The battle against militants fighting for separation of China's volatile Xinjiang province, bordering PoK and Afghanistan, is getting "tougher, fiercer and crueler than ever" due to the revival of pan-Islamic extremist groups, top Chinese leaders from the province said.  
"We should realise that the revival of religious extremism internationally has contributed to the complicated anti-terrorism situation in China," Zhang Chunxian, Communist Party chief of the Xinjiang Uyghur autonomous region, said in the aftermath of Sunday's brutal knife attacks in Kunming where 29 people were hacked to death and 143 others injured.  
Four militants were killed and four others including two women were later captured by police.  
Zhang said the internet has become a new battlefield, as most of the terrorists involved in recent incidents have been influenced by information online.
As a result the anti-separatist battle is getting tougher than ever, Zhang was quoted by the state-run China Daily as saying at a meeting of the Xinjiang delegation at the National People's Congress (NPC), China's legislature which begins its week-long annual session here from tomorrow.