Bombing in volatile southwest Pakistan kills 10
Quetta: A doctor at a hospital in southwestern Pakistan says 10 people were killed when a bomb went off near a passenger bus in the city of Quetta.Ali Mardan says the bodies were brought to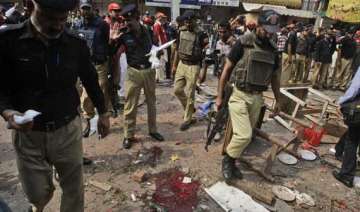 India TV News Desk
March 14, 2014 18:02 IST
Quetta:
A doctor at a hospital in southwestern Pakistan says 10 people were killed when a bomb went off near a passenger bus in the city of Quetta.
Ali Mardan says the bodies were brought to the main hospital in Quetta.
He says the hospital is also treating 37 people who were wounded in Friday's bombing.
He says four of the wounded are in critical condition.
Senior police officer Omar Cheema says the bomb was planted in a rickshaw and exploded when the bus drove by.
There was no immediate claim of responsibility.
Quetta is the capital of Baluchistan province.
The area is dealing with separatists who are battling the state and sectarian groups who often attack minority Shiites.
It is also believed to be home to many Afghan Taliban members.