Lanka fails to get assurance from India on UNHRC resolution
Nay Pyi Taw: Brushing aside opposition from DMK and other parties in Tamil Nadu, Prime Minister Manmohan Singh today met Sri Lankan President Mahinda Rajapaksa but did not give him any assurance on which way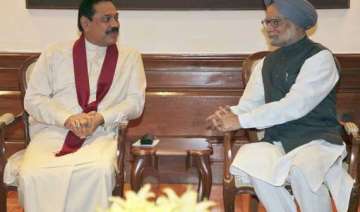 PTI
March 04, 2014 15:36 IST
Nay Pyi Taw:
Brushing aside opposition from DMK and other parties in Tamil Nadu, Prime Minister Manmohan Singh today met Sri Lankan President Mahinda Rajapaksa but did not give him any assurance on which way India will vote on a UNHRC resolution for an independent international probe into rights abuses during the war with LTTE.  
The draft resolution, tabled at the UN Human Rights Council in Geneva today, briefly figured during the 25-minute meeting Singh had with Rajapaksa here on the margins of the BIMSTEC Summit.
"There was no substantive discussion on the draft resolution. Given that it has important implications for both Sri Lanka and India, it was felt that the two sides should remain in touch on the issue," External Affairs Ministry spokesperson Syed Akbaruddin told reporters after the talks.  
The resolution sponsored by the US, the UK, Montenegro, Macedonia and Mauritius urged the UN High Commissioner for Human Rights Navi Pillay to assess progress toward accountability and reconciliation, monitor relevant national processes and to investigate alleged violations and abuses of human rights and related crimes in Sri Lanka.