Pakistani Taliban announces ceasefire, govt welcomes move
Islamabad/Peshawar: The Pakistani Taliban today announced a month-long ceasefire to facilitate the resumption of peace talks suspended by the government over the recent execution of 23 troops."We announce a month-long ceasefire from today and appeal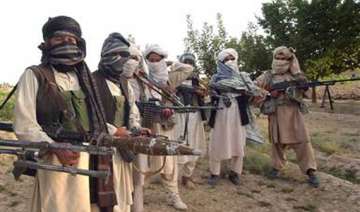 PTI
March 01, 2014 20:13 IST
Islamabad/Peshawar:
The Pakistani Taliban today announced a month-long ceasefire to facilitate the resumption of peace talks suspended by the government over the recent execution of 23 troops.
"We announce a month-long ceasefire from today and appeal to all our comrades to respect the decision and refrain from any activity during this period," said Shahidullah Shahid, spokesman of the outlawed Tehrik-e-Taliban Pakistan (TTP).  
He said directives had been issued to all Taliban factions to respect the truce and honour it by avoiding all "jihadi activities".
"We believe that the government would seriously consider our decision and will keep the negotiation process free from all kind of politicking and would make progress in a positive manner," Shahid said in a statement issued to the media.  
The ceasefire was welcomed by the government, and Irfan Siddiqui, the head of the state negotiators, told PTI: "We welcome this announcement. This is a happy and positive development. We are hopeful that the dialogue process will move ahead."